Markanvändning och variation av fjärilar på en sydsmåländsk gård 2001-2018
Nyckelord:
Lepidoptera, inventering, markanvängnind, diversitet
Abstract
The aim of this study is to examine numerical variation of butterflies in relation to changes in management over 18 years. I used a modification of the English butterfly census method at a forest-dominated farm in central southern Sweden 2001-2018. The total area investigated was about 9 hectares with open grassland, sedge fen and pasture with a sparse tree cover. The pastures were grazed annually up to 2000 but stood without management 2001-2004. After that cattle and most years also 2-3 horses grazed the pastures from May to October. In 1971-2010 flower rich meadows of 0,3 hectares and in 2011-2018 about 1,3 hectares were cut in August, followed by grazing in October. Butterfly census visits took place 10-14 days apart from April to September. The transect line was not more than 10 m from any point in open terrain and open forests, but only 5 m from sunny edges and patches with a high density of flowers. The transect line was adjusted between visits to most intensively cover sites with the highest density of flowers. However, between years the position of the transect lines at different seasons were the same.
During the 18 years 3 species of burnet moths and 50 species of day butterflies were seen. All burnet moths and 42 butterflies have been seen most years. One species Lasiommata maera have disappeared and Apatura iris, Araschnia levana, Nymphalis polychloros and Lasiommata megera colonized in the study period. The change in management with increasing area of flower rich traditional meadows seemed to favour at least Tymelicus lineola, Argynnis adippe, Argynnis aglaja, Maniola jurtina, Plebejus idas, Polyommatus amandus and Adscita statices. Species with the highest density in years without management were Inachis io, Boloria selene, Coenonympha pamphilus, Aphantopus hyperantus and Lycaena virgaurae.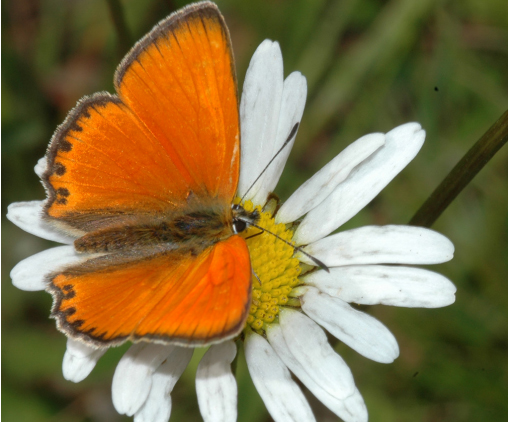 ##submission.downloads##
Referera så här
Nilsson, S. G. (2018). Markanvändning och variation av fjärilar på en sydsmåländsk gård 2001-2018. Entomologisk Tidskrift, 139(3), 185–196. Hämtad från https://et-online.nu/index.php/contents/article/view/59
Licens
© Entomologisk Tidskrift, resp. artikelförfattare och fotograf har upphovsrätterna. Eftertryck är förbjudet men korta citat tillåts om
källan Entomologisk Tidskrift anges.