Anmärkningsvärda fynd av småfjärilar (Microlepidoptera) i Sverige 2022
Nyckelord:
Microlepidoptera, Lepidoptera, småfjärilar, årsrapport, nya fynd, skogsbruk
Abstract
This is the 50th annual report on noteworthy records of Microlepidoptera in Sweden. The arrangement is the same as previous years. All reports of interesting Microlepidoptera found and reported in 2022 or earlier, are validated by voucher specimens, by unambiguous photographs, or by the collectors/photographers, who have given relevant and reliable data for the records. Much information has been recovered from the Swedish portal "Species Observation System" https://www.artportalen.se or from related Facebook groups. During 2022 the weather significantly changed every month and occasionally reaching extremes during some periods. Like previous years, the winter of 2021/2022 was very mild with hardly any snow in the south, while the western and northern parts had almost normal precipitation. In the spring high pressure prevailed with many cold nights. In August–October a few warmer periods appeared with some immigration of particularly Macrolepidoptera.
Seven species of Microlepidoptera have been recorded new to Sweden in 2022.
1) Caloptilia fidella (Reutti, 1853) was found in Blekinge, Sölvesborg on 20 May.
2) Two specimens of Ypsolopha chazariella (Mann, 1866) were attracted to light in Kista, Stockholm on 29 June and 1 July. The host Acer tatarica was growing close to the site.
3) Aristotelia bengtssoni Gregersen & Karsholt, 2022, with type locality in Gotland, Sweden, was recently described. This species has previously been noted as Aristotelia species (No. 1124 in Bengtsson m.fl (2016)). A. bengtssoni has also been recorded from Estonia (Gregersen & Karsholt 2022: 244-246). The biology is unknown.
4) Batrachedra pinicolella (Zeller, 1839) has been split into two species. The sibling species, B. confusella Berggren, Aarvik, Huemer, Lee & Mutanen, 2021, has been recorded from Sweden i several provinces, as well as pinicolella.
5) Coleophora ballotella (Fischer von Röslerstamm, 1839) was first observed in eastern Skåne where larval cases of the species were found on Ballota nigra in the end of May and imagines were later recorded in Skåne and Blekinge.
6) Blastobasis glandulella (Riley, 1871). A male specimen was caught on light in the south of Skåne on 6 July and was verified by genitalia dissection.
7) Cnephasia pumicana (Zeller, 1847) was also discovered in the south of Skåne in early July. Several male specimens were trapped on artificial pheromone designed for that species.
Some other remarkable finds were made in 2022, as well. The extremely rare tineid Agnatosia sandoeensis Jonasson, 1977 was found in the province of Uppland during an investigation of insects bound to polypores. Two specimens hatched from a collection of Amyloporia xantha (Fr.) (Dahlberg 2023). A. sandoeensis is so far only known from the Swedish island Gotska Sandön in the middle of the Baltic Sea, Latvia (Šulcs 1979) and Austria (Gaedike 2015).
A noticeable find of the tortricid Cydia cornucopiae (Tengström, 1869) was made in Lule lappmark far north of the hitherto known Swedish locality in Dalarna.
Nomenclatural changes of species epithet, genus, etc., are presented under the heading "Intressantare arter och andra noteringar" [Interesting species and other remarks].
Like in the previous years many species have extended their distribution area towards the north. Additional generations were recorded for many species, as well. Most Swedish lepidopterists have noticed a strong regression of the number of moths nowadays. A nightly trip 30–40 years ago rendered a soiled windshield by thousands of smashed insects. Now only a few spots appear after a similar trip. Apparently, the insect stock has been considerably reduced to similar extent as reported from other places in the world. The main reasons are most probably the excessive exploitation of natural forests and agricultural methods like applying monocultures and using insecticides and other chemicals. The biodiversity in all aspects is severely affected by these practices and are at long sight threatening food production and other important qualities in human life (Goulson 2021, Antonelli 2022).
The number of recorded species of Microlepidoptera in Sweden is 1780.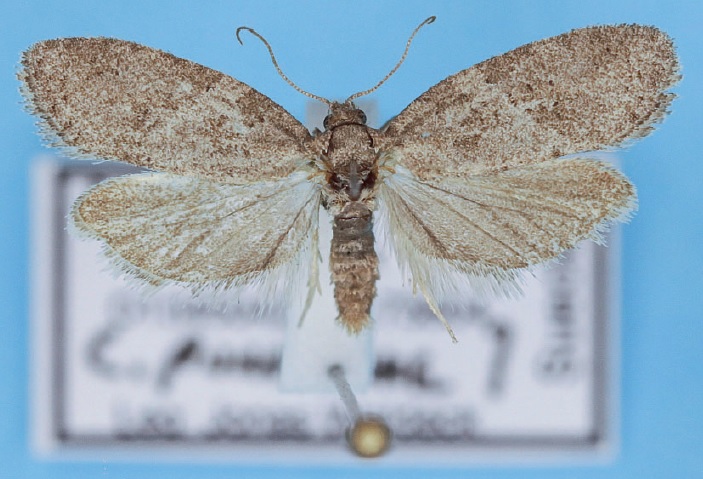 ##submission.downloads##
Referera så här
Bengtsson, B. Å. (2023). Anmärkningsvärda fynd av småfjärilar (Microlepidoptera) i Sverige 2022. Entomologisk Tidskrift, 144(1-2), 1–20. Hämtad från http://et-online.nu/index.php/contents/article/view/129
Licens
© Entomologisk Tidskrift, resp. artikelförfattare och fotograf har upphovsrätterna. Eftertryck är förbjudet men korta citat tillåts om
källan Entomologisk Tidskrift anges.